Soda Fountain Menu


JB Beans & Co. - Soda Fountain Menu

Daily Specials

Syrup Line Soda Glasses

Soda Fountain Dispensers
Soda Industry Milestones
Soda Bottle Protectors
Soda Fountain History
In their heyday, soda fountains flourished in pharmacies, ice cream parlors, candy stores, dime stores, department stores, milk bars and train stations. They served an important function as a public space where neighbors could socialize and exchange community news. In the early 20th century, many fountains expanded their menus and became lunch counters, serving light meals as well as ice cream sodas, egg creams, sundaes, and such. Soda fountains reached their height in the 1940s and 1950s.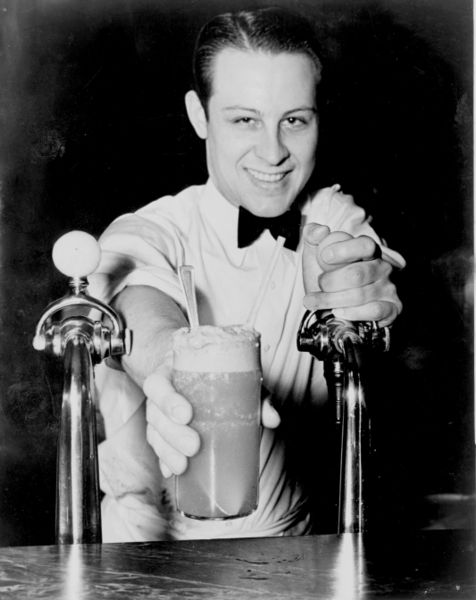 What Exactly is a Soda Fountain? A system for dispensing soda water, usually equipped with a self-contained or remote refrigeration system with compartments for ice cream; may include a built-in sink and carbonator; esp. used at counters in drugstores and in restaurants.

They were developed following a demand created when a Philadelphia perfumer began to serve soda water with fruit juices soon after 1800. In 1834 in New York City, John Mathews started to manufacture machinery to make carbonated beverages. Improvements soon appeared, and about 1858 the marble fountain was invented and patented in Massachusetts. An American soda fountain was exhibited in Paris in 1867, and a popular concession at the Centennial Exposition at Philadelphia in 1876 marked it as a national institution.
In 1950 Walgreens, one of the largest chains of American drug stores introduced full self service drug stores that began the decline of the soda fountain, as did the coming of the Car Culture and the rise of suburbia. Drive-in restaurants and roadside ice cream outlets, such as Dairy Queen, competed for customers. North American retail stores switched to self-service soda vending machines selling pre-packaged soft drinks in cans, and the labor-intensive soda fountain didn't fit into the new sales scheme. Today only a sprinkling of vintage soda fountains survive.